Welcome to our hotel in Matrei am Brenner
You've probably heard the expression "All roads lead to Rome", but did you know that all roads from Austria to Italy lead through Matrei? That's why our four-star hotel in Matrei am Brenner is perfect for holidaymakers passing through who want to take a day or two to enjoy beautiful Wipptal. But our hotel at the Brenner Pass is also ideal for longer stays: the Zillertal and Stubai Alps offer active holidaymakers a range of possibilities in both summer and winter.
Our hotel in Matrei am Brenner is perfect for...
1–4 people
|
starting from 20 m²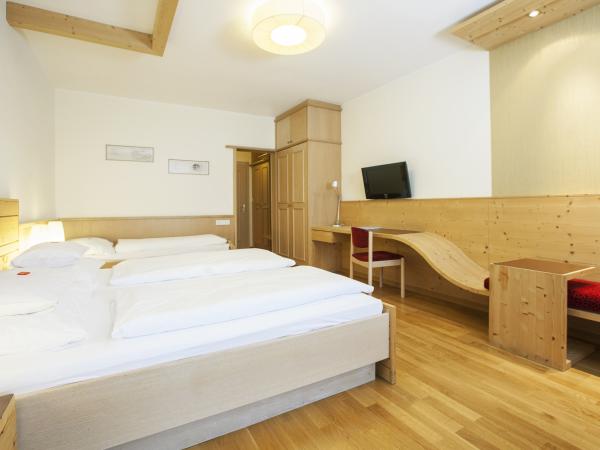 1–2 people
|
starting from 16 m²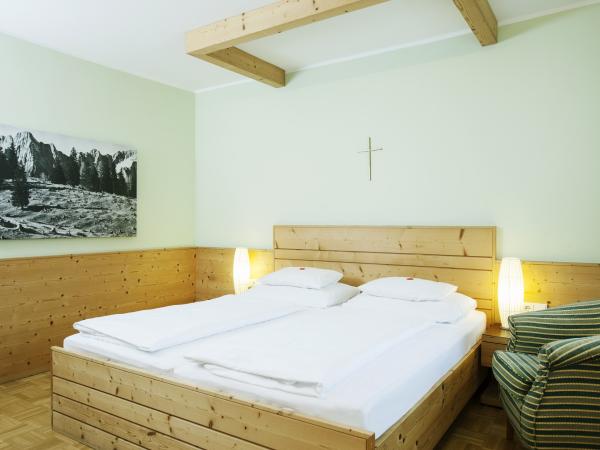 1–2 people
|
starting from 12 m²
This is what you can expect at our hotel in Matrei am Brenner.
Authentic charm and a relaxing atmosphere. A place of retreat and tranquillity but also of experiences in nature. All the rooms in our hotel in Matrei am Brenner have been designed with great attention to detail: the rustic dining rooms in our restaurant, the modern and simply furnished rooms, the ma3 bar, and the inviting park with a quiet oasis, pond, and Kneipp facility. The Parkhotel Matrei is committed to an environmentally conscious approach that complies with the latest standards. Many guests have spontaneously stopped in for an overnight stay near the Brenner motorway – and have quickly become loyal regulars.
Garden area and game enclosure
You might not expect it from a hotel on the Brenner motorway, but the Parkhotel Matrei delivers on its name: on the south-west side of the hotel, you will find a spacious garden area with a pond, a large sunbathing lawn, a Kneipp facility, a children's playground, and our romantic wedding garden. Our guests love to spend their time in the garden, reading their favourite books, enjoying the warm sun, and finding relaxation with every breath of the mountain air.
Adjacent to the hotel, you will find our 3.5-hectare game enclosure, which is a sight worth seeing. We have been running the game enclosure for over 20 years and keep fallow deer and mouflons here. In autumn, some of these animals are used to create the exquisite game dishes for which our restaurant is widely known. To ensure the quality of the breeding and the meat, we exchange animals annually with other breeders from across the Alpine region.